<![if !vml]><![endif]>

Li Zhang, PhD Candidate

Department of Engineering Mechanics

Tsinghua University

Beijing 100084, China

E-mail: lzhang12/at/mails.tsinghua.edu.cn
Education
2012-Present Ph.D study, Department of Engineering Mechanics, Tsinghua University
Supervisor: Prof. Moran Wang
2008-2012 B.S. (with honor) Department of Engineering Mechanics, Tsinghua University
<![if !supportLists]>Ø <![endif]>Thesis: Modeling reactive transport of electrokinetic fluid in microchannel using lattice Boltzmann method
Supervisor: Prof. Moran Wang
Experiences
☺ Visiting student, University of Texas Austin, 2015-2016
Research interests
<![if !supportLists]>l <![endif]>Reactive transport phenomena in microporous media
<![if !supportLists]>l <![endif]>Electrokinetic phenomena at micro/nano scale
<![if !supportLists]>l <![endif]>Lattice Boltzmann method
Honors and awards
<![if !supportLists]>l <![endif]>2017 Sijimuge Scholarship
<![if !supportLists]>l <![endif]>2013 Best poster award in the Annual National Conference of Engineering Thermophysics 2013 at Chongqing
<![if !supportLists]>l <![endif]>2012 Freshman Fellowship of Ph.D Students
<![if !supportLists]>l <![endif]>2011 National Endeavor Scholarship
<![if !supportLists]>l <![endif]>2010 National Endeavor Scholarship
<![if !supportLists]>l <![endif]>2009 National Endeavor Scholarship
Publications
In Journal
<![if !supportLists]>² <![endif]>L. Zhang, M.A. Hesse and M. Wang*. Dispersion of Charged Solute in Charged Micro- and Nanochannel with Reversible Sorption. Electrophoresis In Press, 2019
<![if !supportLists]>² <![endif]>L. Zhang, C. McNeece, M. Hesse and M. Wang*. Reactive Transport of Proton in Electro-osmostic Displacement Flow with Concentration Difference in Microchannel. Analytical Chemistry 90 (20): 11802–11811, 2018
<![if !supportLists]>² <![endif]>L. Zhang, M.A. Hesse and M. Wang. Transient solute transport with sorption in Poiseuille flow. Journal of Fluid Mechanics 828: 733-752, 2017
<![if !supportLists]>² <![endif]>L. Zhang and M. Wang*. Electro-osmosis in inhomogeneously charged microporous media by pore-scale modeling. Journal of Colloid and Interface Science. 486: 219-231, 2017
<![if !supportLists]>² <![endif]>L. Zhang and M. Wang*. Effects of Dielectric Permittivity of Solid Structure on Electro-osmotic Permeability in Porous Media. J. Porous Media 18 (10): 1021-1029, 2015
<![if !supportLists]>² <![endif]>L. Zhang, M. Wang*. Modeling of electrokinetic reactive transports using a coupled lattice Boltzmann method. Journal of Geophysical Research-Solid Earth. 120: 2877-2890, 2015
<![if !supportLists]>² <![endif]>H. Tian, L. Zhang, and M. Wang*. Applicability of Donnan equilibrium theory at nanochannel-reservoir interfaces. Journal of Colloid and Interface Science 452: 78-88, 2015
<![if !supportLists]>² <![endif]>A. Alizadeh, L. Zhang, and M. Wang*. Mixing enhancement of low Reynolds electro-osmotic flows in microchannels with temperature-patterned walls. Journal of Colloid and Interface Science, 431: 50-63, 2014
<![if !supportLists]>² <![endif]>L. Zhang, M. Wang*. Theoretical Analysis of Reverse Electrodialysis in Nanochannel. Journal of Engineering Thermophysics 36: 154-157, 2015 (In Chinese)
<![if !vml]>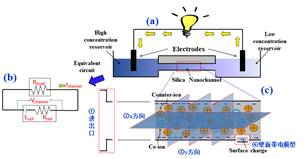 <![endif]><![if !vml]>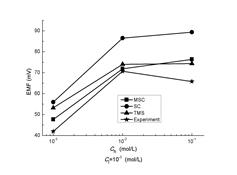 <![endif]>
Electromotive force from TMS model, space charge model, modified space charge model for different concentration ratios
In Conference
3 L. Zhang and M. Wang. Coupling of electrokinetic and reactive transports in porous media. International Heat Transfer Conference 2014. Aug. 10-15. 2014, Kyoto, Japan.
2 L. Zhang and M. Wang*. Theoretical Analysis of Reverse Electrodialysis in Nanochannel. Annual National Conference of Engineering Thermophysics, Oct. 25-28, 2013, Chongqing. (Best Poster)
1 L. Zhang and M. Wang*. Electrokinetic reactive transport in microchannel. The tenth International Conference for Mesoscopic Methods in Engineering and Science, Jul. 22-26, 2013, Oxford University of UK. (Presentation)
Book & Chapter
1. M. Wang* and L. Zhang. Energy Conversion and Power Generation Using Nanofluidics. Encyclopedia of Microfluidics and Nanofluidics. Ed. by Dongqing Li, Springer, Berlin, Heidelberg, New York, 2014.